Menstruating Women Are Not Allowed To Cross River
"Spiritually the River god is a man born on Tuesday. So it is that day that the spirit is revoked and does certain rites…certain things about women, like menstruation, are regarded as unclean. Hence, it is a taboo for women to cross the river on this day and during menstruation. It has been there since our infancy." That's the explanation by Nana Ntiamoah Agyekum II, Kontihene of Denkyira Kyekyewere.
He explains that the gods demand that these rules be kept sacred at all times.
Females, both children and adults have, for ages lived with the negative effect of this tradition.
Thirteen-year-old Francisca Ameha, a Junior High School student of St. John Methodist School, is in class at Kyekyewere today because it's Wednesday.
Together with other colleagues, she is allowed to cross River Offin on Wednesday and other days, but on Tuesdays the story is different.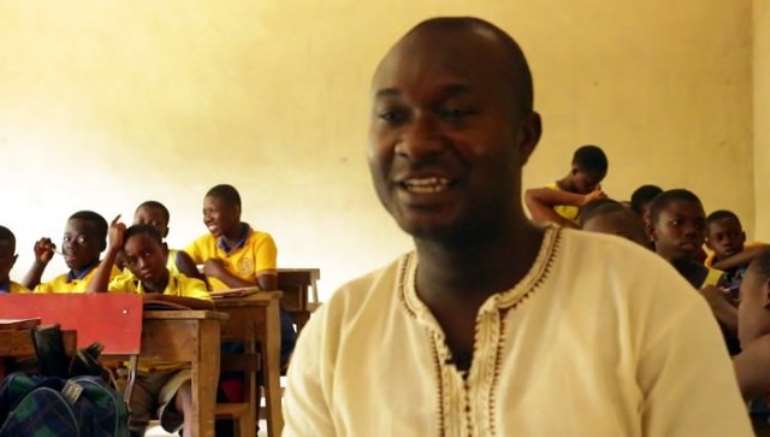 Francis Turkson
When the river overflows its bank, it becomes dangerous for even the older folks to cross.
Authorities have, therefore, announced that students and the elderly should stay home when the river overflows its bank because it becomes dangerous to cross.
Communities along the Ashanti Region side of the Offin River banks have had to cross over to the Central Region side to get an education.
They walk a total of eight miles or about 14 kilometres in and out from Monday to Friday from Adiepena to the river, cross by canoe, and walk again to Kyekyewere where the nearest school is located.
No school anywhere else in the Ashanti Region is that close.
Children go through such ordeal because the only school established in their community nearly 40 years ago has been abandoned for lack of teachers.
Teachers are also unable to stay in the communities because it lacks basic social amenities: no electricity nor portable drinking water and no health centre facilities.
Residents in these communities would have to cross the River Offin to the Central Region to seek proper health care and other social amenities.
The frustration compels the teachers to leave few months after posting being there, gradually forcing the school to close down. By 2005, authorities had totally shut the doors to the classrooms.
In 2016, community leaders tried to revamp it through the help of some volunteers who were willing to teach the students.
"The arrangement was that every student paid GHS1 to be used to pay the teachers but the parents couldn't pay. The students were not motivated and that revival plan couldn't materialise", Odikro Appiah, Chief of Adiepena said.
St. John Methodist School in Kyekyewere, according to the Ghana Education Service, has been adjudged the best public school in the Municipality among over 100 schools for two consecutive years 2016, and 2017.
Upper Denkyira East Municipal Director of Education, Joseph Filmore Nsiah, reveals no significant effect on the school's performance but the challenge must be addressed.
Build a hostel at Kyekyewere to keep girls there when on Tuesday's and when they are in their menses.
"The idea of building a school after the riverbank for those communities will not help because we tried it and the school collapsed so the only option is to get a hostel for them in Kyekyewere," he said.
That is a slight departure from what the chiefs in Kyekyewere prescribe.
"We are pleading with the government to build a bridge over the River to address this challenge," Nana Ntiamoah Agyekum II said.
The Chief and his elders agree it was about time old traditions were done away with.
"We can beseech the necessary people to perform some rituals and follow some traditions to pacify the gods to seek permission for it to be built. It can be done," he said.
He adds: "Give us a bridge over River Offin and women and girls can cross unhindered to attend school and undertake other socio-economic activities."
For little Francisca, something quick should be done about the situation so she can always be in school.
"We would be happy if something is done about it," he pleads.