Police Clashed With Nurses Trainees
A trainee nurse at the Afia Kobi Nursing Training College in Kumasi is on admission at the Komfo Anokye Hospital following a clash between the police and her colleague students.
Forty-five other students who also sustained various degrees of injuries during the clash with the police and security task force of the Tafo Municipal Assembly.
Reports indicate that armed police officers and the task force of the Assembly, stormed the campus on Monday, 22 October 2018 to enforce a summons by the TMA after the school's Director allegedly defied some sanitation by-laws.
READ THIS: Army Deployed To KNUST
This led to a resistance by the students of the school who insisted that their Principal is innocent and it eventually led to a chaos.
Speaking to the media, a victim of the clash, Clement Owusu Ansah, said some of the students were severely brutalised in the melee and sustained various injuries.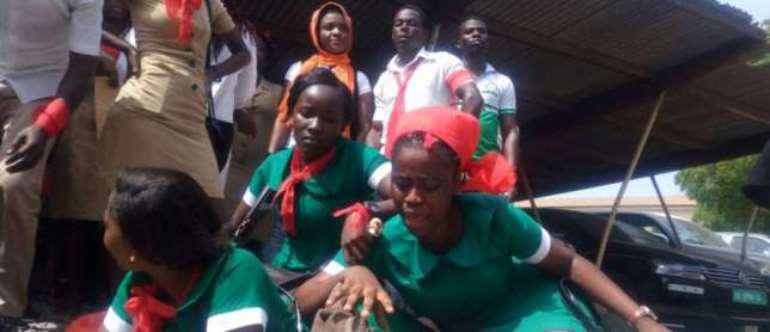 It is being reported that some students wore red armbands and marched through some principal streets of Tafo in protest to the conduct of the police and taskforce.
Yesterday, a similar demonstration happened at the Kwame Nkrumah University of Science and Technology when students protested against brutalities by campus security officials.
However, what was meant to be a peaceful protest soon became messy, as students ransacked cars and other properties belonging to both teaching and non-teaching staff.